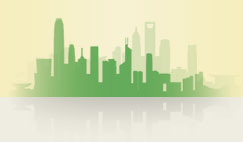 IESC's Marque Programs
Behind the birth of each program there is a journey filled with joy and pain: joy for the new creation and pain for all the challenges and complexities we must overcome in creating something new. The development of our programs takes three key ingredients: (1) team effort, (2) selecting appropriate resources, and (3) commitment to excellence.
As a team we are personally and professionally involved in the design and development of each program creation so we feel every program symbolizes a piece of our organization. Together, our programs are "food for the soul", carrying our love for education. We select the best educational ideas and tools for program content and program delivery, and we draw upon faculty from leading universities and top practitioners who can turn concepts into practical application. Finally, at IESC we believe that service excellence is a full-time job. Our internal review process and constant feedback from our clients and participants ensures that everything we do in the design, development and delivery of education is subject to continuous improvement.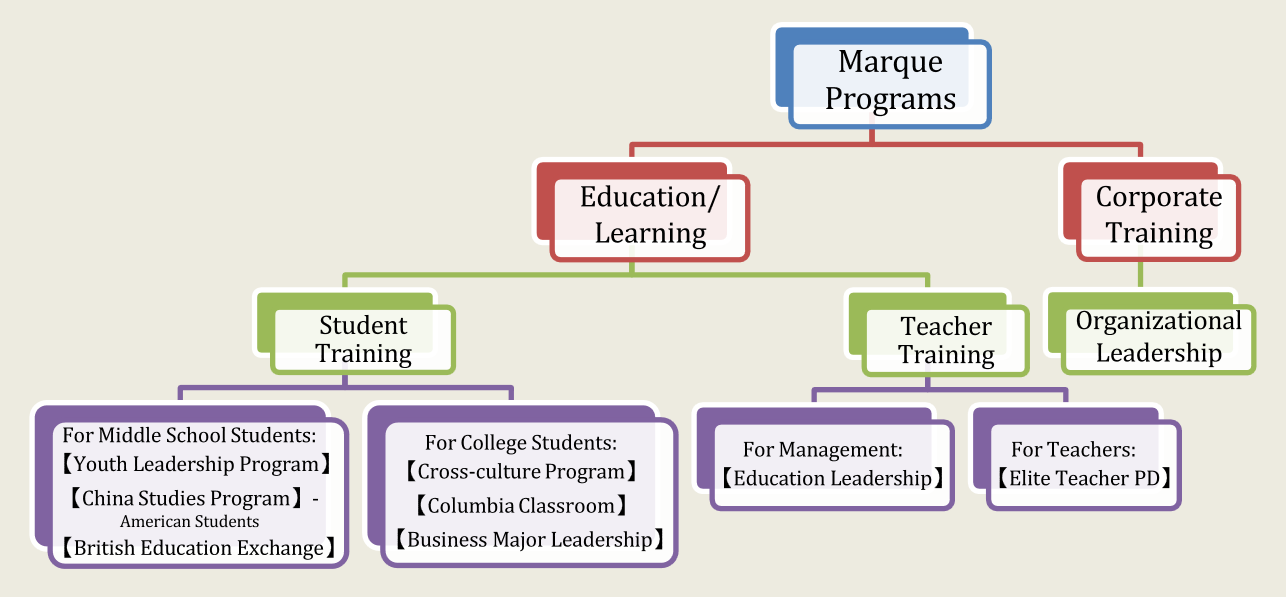 Since 2008 IESC team has conducted professional development programs for various constituents including education officials, school principals, teachers, administrative staff, and students from China and the United States (majority of our participants). Prior to 2008 the company ran management and leadership training programs for various industries, including banking, IT, healthcare, heavy industrial, and consumer goods manufacturers.
Almost every year (since 2008) we have introduced new programs and extended our professional development services, as our existing client base has grown bigger both in the United States and China.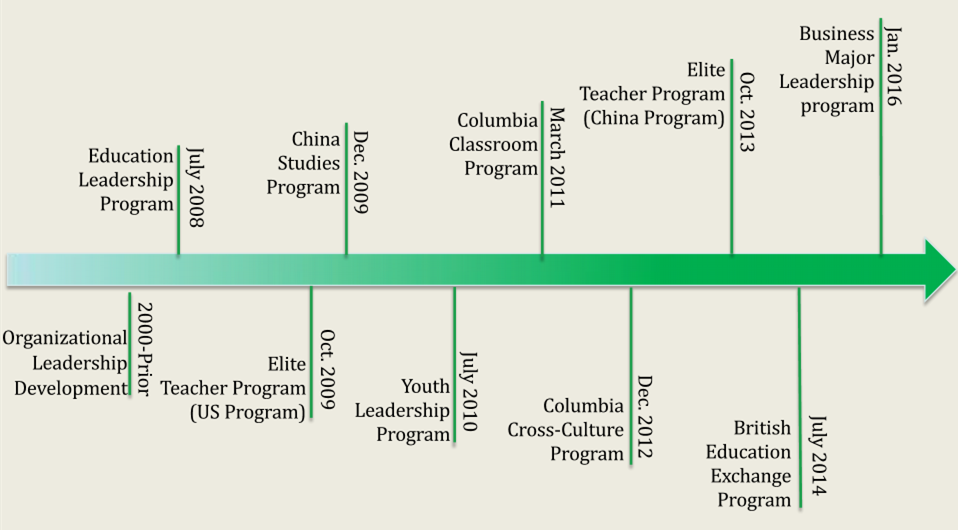 Birth of IESC Programs Since 2008:
Education Leadership Program:

When IESC's board members (Edward Verlander and Sarah Wang) first visited China in 2007, many local students and parents sought their advice about studying abroad, driven by the new reality that China's education industry was shifting as result of China's economic development. People were looking for new ways to educate the future generations. Edward and Sarah experienced first-hand, the need for education reform in China.
During that first visit, IESC's management team formed the strong belief that the rapid growth in the Chinese education industry must be supported with new, value-added, professional services. At the same time, the West (i.e., US schools) should learn from the many good practices found in the Chinese education system. Policy makers, bureau officers, school principals, teachers, and students needed to explore and assess various school models used in the West and the East. By comparing and contrasting the strengths and weakness of each other's education systems, new and more effective education policies and practices would emerge. As those discussions started, in the summer of 2008 IESC's management team contracted with the Shenyang Education Bureau to design and deliver its first Education Leadership Program at Teachers College, Columbia University in the city of New York. It was IESC's first initiative towards becoming a player in the China's education reform effort by creating global collaboration.
Elite Teachers Program (US Program):

In the autumn of 2009 a group of the New York State superintendents (from the Eastchester, Pelham, and Tuckahoe school districts) were looking to build global partnerships with Chinese school counterparts. They wanted to promote 21st Century learning by fostering cross-culture exchanges between China and the US so that teachers from both cultures could learn, grow, and exchange practices in education and learning methods. About the same time, Beijing New Oriental School had approached IESC to be their in-service professional development provider for their elite teachers. Given the two interests and desires, it made perfect sense for IESC to create a professional development program where teachers from both cultures could benefit from one program. Since then, Beijing New Oriental School has returned to the US every year to participate in professional development seminars and to meet teachers from New York (NY) schools to learn about and exchange professional practices. Participating schools from the US include: Eastchester School District (NY), Pelham School District (NY), Harrison School District (NY), Greenville School (NY), and Barack Obama Green Charter High School (NJ). The professional development seminars have been sponsored by the Penn Center for Educational Leadership of the University of Pennsylvania and Teachers College, Columbia University.
Columbia Youth Leadership Program:

This program was officially launched in the summer of 2010 after pilot testing the idea for a year. The program was one of IESC's early efforts to promote leadership development to youth. IESC wanted to bring Chinese and US youth together to learn about leadership and to create cultural exchange opportunities that would increase the global awareness of students. Today, the Columbia Youth Leadership Program is hosted at Teachers College, Columbia University. The program faculty applies various experiential learning methods and techniques to teach students critical thinking, aspects of reading and writing English, cross-cultural communication, and interpersonal skills. Each year IESC welcomes nearly 200 students from China and New York State schools to this program, promoting cultural awareness and global leadership perspectives. The Columbia Youth Leadership Program is one of the most popular programs at IESC.
China Studies Program:

The idea of launching a China Studies Program (CSP) was first drafted in the winter of 2009 when Sarah visited China with the then Eastchester School District Superintendent, Dr. Marilyn Terranova (currently an IESC education consultant). Sarah and Marilyn were looking for ways to offer educational opportunities to New York State students that would foster their learning about global awareness and in particular, China. After the initial conversations, a working team was formed and included Hong Kong-based Mr. Tim Parkinson (currently an IESC education consultant). The CSP was launched the following year (2010). The China Studies Program was initially offered to students from Eastchester High School and Pelham Memorial High School, and now enjoys a growing network of schools. Today, CSP is one of the most popular "study-abroad" experiences among participating US high school students. Starting in 2014 IESC plans to launch Chinese language teaching as part of the CSP learning experience.
Columbia Classroom Program: In fall of 2010, the Global Institute of Management and Economics (GIME) at the University of Finance and Economics in Dalian, China, approached IESC to help it with its advancement in international outreach in the US. After six months of discussion and planning, IESC signed a contract with GIME to launch its program for university students, called Columbia Classroom.
The Columbia Classroom program serves undergraduate and graduate students who are interested in learning, in a cross-cultural setting, about the skills needed to be successful in US university classrooms. Guided by faculty from Columbia and using the experiential learning method, students learn about understanding, speaking, writing, researching, and presenting university-level work. The program is comprised of two key components: (1) in-class learning of models, skills, and knowledge needed before conducting (2) a field practicum. Students are required to combine their classroom learning with their real-world research. They conduct research, write reports, and make presentations to a panel of field experts who provide an evaluation, critique, and feedback of the student's work.
Elite Teachers Program (China Program): In September of 2013, sponsored by the Robert Lipp Family Foundation in New York and working in concert with the Xi'an Bureau of Education, IESC delivered a new professional development initiative for teachers — the Elite Teachers Program Capstone.
Over the last two years, IESC has examined the strengths and weaknesses of the education system in China and the United States. As a result, IESC and its clients decided that, working together, it was time to take on a new role as a driving force for change in China's education reform by introducing leading-edge educational theories and practices from the US. With support from educational experts at Teachers College, Columbia University and the Xi'an education bureau, IESC used its own in-house experts to design, develop and deliver its capstone program for Xi'an's top teachers. The program focused on the educational philosophy, methods, best practices, and techniques advocated in the West.
With the extraordinary success of this program in Xi'an, IESC plans to increase the scope of the content covered in the program and the range of education bureaus serviced around the country in China. At the same time, IESC is planning to bring its experiences in the Chinese education system back to benefit teachers in the New York schools. In future Elite Teacher Programs, IESC will be working on enhancing the collaboration between the Chinese and US teachers so that they can learn from each other and adopt best practices from both systems.